Wasted! Openair at Lake Obernzenn
"Servusla" to Wasted! Openair!
THE stoner-punkrock-lake-bullshit-nackedei-festival at Lake Obernzenn.
Our aim is to contribute to rural culture in a special way: To create a common space for creativity, diversity, music, art and most of all DIY - beyond well-tried programs and events.
For everybody and against racism.
That means that everybody who stands in for an open and respectful cooperation is welcome. No one is reduced on skin colour, origin, religion, vita or other social conventions. As a voluntary collective we are self organized, unperfect, chaotic and most of all dedicated with heart and soul.
Our tickets are very limited, because we want to remain familial and non-commercial.
Turbojugend Schlachthaus & the Wasted! Crew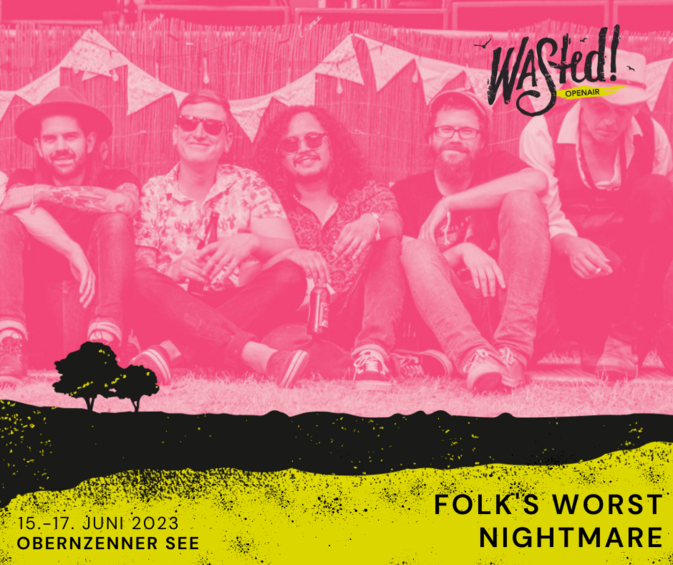 folks worst nightmare
[DE]
Die Konstellation aus verschiedenen Künstlern wie The Black Elephant Band, John Steam Jr., Reverend…
weiterlesen
LÜT
[NOR]
Die Kombo LÜT aus Tromsø, Norwegen, bringt viel Wut, Sozialkritik und jugendlichen Leichtsinn an den…
weiterlesen
Vulvarine
[AT]
Vor vielen Jahrhunderten wurde eine Kreatur geboren. Ein Wesen, bekannt als "VULVARINE". Gebohren in…
weiterlesen
... and now get your Ticket & Get Wasted!
Now go for it! Grab your ticket and be part of the selfmadest festival ever!
The Wasted-Crew is looking forward to you <3